Bring MORE local traffic to your business and INCREASE your income with viral email marketing
Viral email marketing is small business marketing that builds upon itself every month! It's been said in just about every industry that your email list is your WEALTH. It pays to grow your list and reach out to them on a consistent and regular basis.
If you're anything like a lot of small businesses, your current method of attracting new customers might be offline methods such as newspaper ads or flyers. You might even have played around with online methods like Facebook ads, Google Adwords, and the like.
Maybe a few people who see your ad, flyer, or Facebook ad will be motivated to become a customer by stopping by your business, giving you a call, or visiting your website. A few may move on to become customers, but it's more likely that they won't.
So after beating your head against the wall with ads and pesky flyers that make you feel like you're getting literally NOWHERE — you're still in the same place as you were before you went to all that trouble.
But you keep on trying with more ads and more flyers and more frustration because… that's how it's done, right? Right?
Instead of flailing around in that marketing void, what if…
each time you ran a viral marketing promotion, you not only got customers from that promotion, but you also re-lit the fire under customers from your last promo all over again. And not just them, but the customers from the promo before that, and the one before that, and so on.

some people who saw your previous promos, but didn't engage with you then, were activated because you're becoming more familiar to them now (instead just a business on some junk flyer they don't want).

every time you run a viral marketing promotion, people want to tell all their friends about it on Facebook, Twitter, and other social media and, in so doing, get you lots of free additional promotion for your business.

you build a list of — not only customers — but also people who have shown an interest in your business. This list grows month after month, helping you to attract more and more customers and continually increasing your sales.
Frequently Asked Questions (FAQ)
Woo! That sounds great, but how exactly does it work?
Here's all of the details for you. It may sound a little complicated but it's actually very simple as well as very effective… AND I do everything for you!
Month 1
​1. I set up an online Viral Prize Drawing for you. The prize, which you provide, should be something related to your business and of value to your customer. As an example, for a restaurant, a meal for two people would be ideal. A jewelry store? An inexpensive piece of jewelry to introduce people to your store.
​2. People in your local area see your prize drawing on Facebook, Twitter, etc. and enter because they want to win the prize.
​3. When these people enter, they automatically get added to your email list that I set up and run for you.
​This is when things really start to happen…
​4. Once people have entered your drawing, they see a special page which gives them the chance to get more entries in your drawing (and increase their own chances of winning the prize) by sharing your drawing social media such as Facebook, Twitter, and more.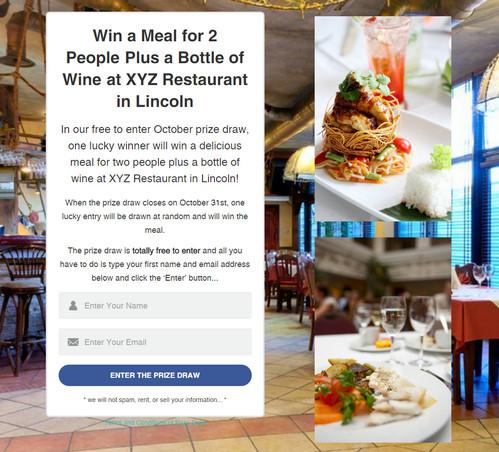 This is what a viral page looks like. As you can see, it's very professional looking and will feature images from your business, so that it's totally personalized.
Since sharing your prize drawing is as simple as pressing a button, most people readily share it because they want to increase their own chances of winning the prize. This motivated sharing is what makes these prize drawings so viral.
​People share your drawing which means more people see it. They enter your drawing which means even more people share it and it just keeps going. What's more, each person who enters is another person on your email list that you can promote your products and services to month after month.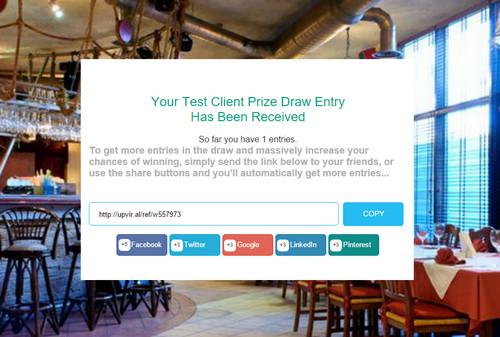 5. At the end of the month, we send an email newsletter to the email list of everyone who has entered the draw. Typical results have been between 200 and 1400 people on the email list in just the first month, depending on the business type and size of the area the business is based in.
In the email newsletter we can include information about your business, products and services, possibly and offer or discount, plus any other information that can turn them into customers.
*** The ball is rolling now! ***
Month 2
1. In the second month, we repeat month 1 with a new prize draw, but this time we also tell all of the existing email list about the new draw and let them enter.
2. They enter the draw and again are encouraged to share it to increase their chances of winning.
3. More new people see the draw, enter and share it with their friends.
4. The email list grows even more and at the end of the month we send an email newsletter to even more people and so bring more customers to your business.
*** The ball is rolling even faster now! ***
Month 3 (and onward)
Each month we now repeat the same process with a new prize draw, but each time we have more and more people on the list to enter the draw, more people to share the new draw, and more people who receive your email newsletter
*** The ball picks up speed each and every month! ***
​
So, every month, your email list – a valued asset to your business – gets bigger.
Every month, more and more people enter your draw, see your offers and generally get reminded about your business.
Every month, more and more people become your customer and help to increase your profits!
In other words, instead of starting from scratch each month like most businesses do, your marketing now snowballs and builds on itself every single month!
Now it's time to get viral email marketing working for your business…
How To get Started
If you're ready for viral email marketing for your business then I'd be very happy to get the viral system set up for you. Here is everything that is included for your small monthly investment…
With my viral email marketing system, I not only set up your viral prize draws but also look after the monthly management of your email list and the sending out of your newsletters. This includes all of the following…
​Initial Setup
Set up of your first prize draw with my Viral Prize Draw Software
Set up of your email list system with GetResponse. This is a paid for service, but with my Done-For-You system, all costs are included.
With my Done-For-You system, your initial setup is included at no extra charge.
​Fully Managed Monthly Newsletters
There is no point building a large email list of your customers and potential customers and then not sending them anything and so the Snowball Effect Done-For-You system also includes the creating and sending of a newsletter each month. You will need to tell me what you want to include in the newsletter of course as you know your business far better than me, but the design of an attractive looking newsletter and the sending it to your growing list, is taken care of for you each month.
​As an example, your newsletter could include offers to attract customers at times when you're normally quietest, details of special events, new products or other news from your business. Anything that will keep your business in your customer's mind and tempt them to buy from you rather than one of your competitors.
So every month your Done-For-You system includes…
Fully managed solution so whenever you want a newsletter sending to your list (up to once per month), you simply send the wording and any images to me and I will format the newsletter and send it to your ever growing list (after you have seen and agreed a proof copy of course)
All GetResponse email list software costs
Ongoing management of your email list
The email list we build is yours and yours alone. You are welcome to have a copy of the list at any time and if you ever decide to leave the system, your entire list will be sent to you so you can still use it.
Telephone support and help from me when needed
Web hosting costs for your Viral Prize Draw Software
Set up of further Viral Prize Draws as and when required. Many businesses run a different prize draw every month to ensure the email list continues to grow. All of this is included for you.
Your total investment per month starts at just $60
This low monthly cost is paid via PayPal and covers a list of up to 500 people. When your list grows above that figure which becomes even more profitable for you, your monthly cost will increase by $30 for every 500 people on your list. For example, ongoing costs for a list of 501 to 1000 people will be $90, 1001 to 1500 will be $120 and so on. This is because of the incremental increase in email list software costs. Your costs only rise when you already have the list and the increase in profits to make it more than worthwhile.
​No long term contract. I'll be working hard to ensure that your email list is constantly profitable for you, but if you ever decide to cancel, then you can do so at any time and the email list you have built will be yours to keep and use as you wish.
Just a tiny 2% response from a list of 1000 can increase your weekly revenue by hundreds of dollars, so you can have confidence that the small monthly cost will be the best marketing investment you'll make.
To order your , please use the button below…
If you have any questions or would like to discuss further, please see the FAQ's below or Contact Me by clicking here, or by calling me at 541-705-4511.

I look forward to helping you to regularly find more customers for your business.
Best regards,
Cynthia Clinton
Frequently Asked Questions…
Is there any long term contract?
Nope. You can cancel our agreement at any time with no headaches and no hard feelings. After cancellation, your service will continue until the end of the current paid cycle and will not renew. Of course, I'll be working hard to get you more customers so that you don't want to cancel at any time!
My business caters to local customers. Will your service still help me?
Yes! This service was designed to help small businesses like yours reach their local customers. Having an email list can help get customers into your business and not just on your busy days either. Being able to reach customers and potential customers can get them into your place of business on your dead days of the week means MORE income, MORE sales, MORE happy customers.
How many extra customers will I get?
It's impossible to quantify what other people will do. There's no way to say exactly how many extra customers you'll get from your list. For example, even with a newspaper ad, you know your ad will be seen by readers, but there's no way to quantify exactly how many of those will become your customers. The benefit of viral email marketing, though, is that we're building an email list — which is an asset — of people that have an interest in your business, your products, and your services. Emailing them your newsletter every month will give you massive brand exposure and engagement with your customers and potentials. This builds on itself and leads to MORE customers and MORE sales.
What type of business does this work best for?
This type of viral email marketing will work very well for any Business to Customer (B2C) type business. It's worked its magic for a wide range of B2C businesses including restaurants, hair salons, beauty salons, nail salons, driving schools, computer shops, coffee shops, tanning salons, and bridal boutiques. Theoretically, it could work a treat for tattoo and piercing shops as well. In these times of COVID lockdown and subsequent public apprehension, what business doesn't need help getting people through the door?
Can I discuss the possibilities and options with you?
You bet! Drop me an email and I'm happy to answer any questions you have and share with you how viral email marketing can help your specific type of business. Got something new for me? It's always a thrill to start working with a type of B2C business I haven't worked with before!